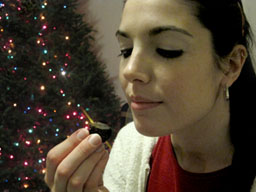 My husband, David, recently took a business trip to Europe. I've always dreamed of going to Europe and I haven't had the chance yet. As consolation, David promised to bring me back a truffle from France. He visited family friends in Paris who have a second home in the country. At the farm, they have a tree that frequently harbors black truffles buried in the dirt underneath. They explained that this year had not a good year for finding truffles so they gave him truffles that they had canned in a previous year.
I wanted to make a simple meal that would showcase but not overwhelm the truffle. So, I decided to make a simple Carbonara with linguine, peas, basil, parsley and an egg, white wine and parmesan sauce. We opened the little can and were surprised to find four tiny black truffles! They were round and spongy with a bumpy texture. I was a little disappointed that they were not as pungent as I expected. But maybe I am just used to white truffle oil that is usually enhanced with garlic. Or maybe it was because the truffles were canned, not fresh. No matter, a few shavings of truffle on the pasta was still a special treat.
I would love to go truffle hunting someday when I go to Europe. Have you been lucky enough to find your own truffle? Have you had a great dish in a restaurant enhanced by truffles? Does the smell of fresh truffle blow your mind? I would love to hear about your truffle experiences.