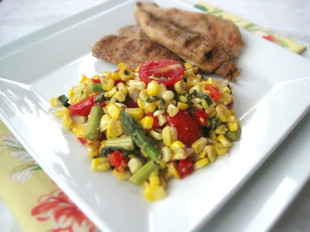 This is a great side dish for any preparation of fish or chicken and can also be used as a relish.
Serves 4
Ingredients
4 ears of corn, shucked
2 tablespoons olive oil
Salt and Pepper
3 cloves garlic, minced
1 bunch green asparagus, bottoms trimmed, diced (If the asparagus has thick stalks, the ends may need to be peeled to prevent them from being too tough.)
1 small red bell pepper, diced
1 pint cherry tomatoes, cut in half
4 scallions, diced
2 ounces of fresh basil
1 lime, juiced
1 tablespoon of honey may be needed
Directions
Preheat oven to 350°F. Use a paring knife to take the kernels off of the ears of corn and put them into a glass or ceramic casserole dish so that there is a thin layer of kernels covering the bottom. Season with salt and pepper and drizzle with olive oil. Roast in oven for about 10 minutes.
Add the prepared garlic, asparagus, and bell pepper. Stir the kernels well and roast for another 15 minutes or until the pepper is softened and the asparagus is cooked through.
Stir in the cherry tomatoes and roast for another 5 minutes or until the tomato skins start to shrivel.
Stir the scallions into the hot mixture so that they turn bright green. Chiffonade the basil by stacking the leaves on your cutting board with a large leaf on the bottom of the stack. Roll the leaves horizontally and cut very thin slices from the roll. Stir the basil into the corn mixture.
Season the salad with salt and pepper and lime juice. Honey may be needed to sweeten the mix slightly when the corn is not in season. Serve hot as a side dish or cold as a relish.