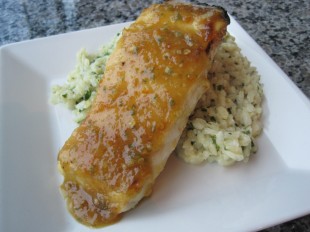 This recipe works with any type of fresh white fish. Tilapia and cod are flaky and a little hard to work with but much less expensive than firm fishes like halibut and sea bass. The bright flavors of this dish compliment my recipe for Coconut Risotto with Fresh Peas perfectly!
Note: You will need a mini food processor and a broiler in or under your oven to make this recipe.
Serves 4 as a main dish.
Ingredients
4 – 8 ounce fillets of fresh fish – such as tilapia, cod, halibut or sea bass, skin removed and de-boned
8 ounces orange marmalade
1 Tbsp fresh ginger, peeled and roughly chopped
1 garlic clove, roughly chopped
1 small serrano pepper, roughly chopped with seeds
2-3 limes, juiced
Season To Taste with salt
Directions
Preheat your broiler on high. If your broiler is on the inside roof of your oven, move one rack to the top shelf. Prepare a baking sheet by lining with foil and spraying with nonstick cooking oil. Lay the four pieces of fish on the tray, skin side down.
Combine the marmalade, ginger, garlic, serrano pepper, lime juice and salt in the mini food processor. Blend until the marmalade is smooth and the ginger, garlic and serrano pepper are chopped into small pieces. Taste and add more lime juice and salt if needed.
Spread half of the marmalade mix on the fish fillets. With a wide spatula, flip the fish over so the skin side is up. Spread the remaining marmalade on the fish. Place the fish under the broiler for about 5 minutes or just until the marmalade starts to bubble and brown. Using the spatula, carefully flip the fish over and broil for another 5 minutes. The thinner the fish fillet is, the faster it will cook, so adjust cooking times accordingly. The fish will be done when it feels slightly firm to the touch and the layers start to flake apart.