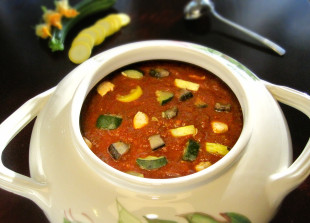 This is one of my clients' favorite recipes. It is great because you can vary the vegetables to change the flavor. Try serving this soup with the Country Cornbread.
Serves 2
Ingredients
1-2 Tbs olive oil
1 chicken breast, cubed
½ small white onion, rough chopped
1 celery stalk, rough chopped
1 garlic clove
1 can tomato paste
2 cans diced tomatoes
chicken stock to thin
½ zucchini, sliced in half and sliced thin
½ yellow squash, sliced in half and sliced thin
1 portobello mushroom fine diced
To Taste salt, pepper, sugar, chili powder, dried or fresh herbs
Directions
In one tablespoon of olive oil, brown the diced chicken pieces in large soup pot. Add zucchini, squash, and mushroom and sauté until soft. Remove from pot.
Add more olive oil if necessary. Sauté onion, celery and garlic until translucent. Add tomato paste and diced tomatoes, bring to simmer.
Puree the tomato mixture with hand blender until smooth, adding chicken stock if necessary to thin.
Add chicken, zucchini, squash, and mushroom and bring to a boil.
Season and cool. This soup is great when served with Country Cornbread. Come back next week for the recipe!